Nature Center

The Nature Center is a "hands-on" awareness center and offers a full environmental education program where God's creative genius is seen in every part of His world.

The center itself is a special facility dedicated to the memory of the man who brought God's world alive to so many campers at Twin Pines. The room itself can comfortably accommodate sixty people.

The center is equipped with all of the latest audio visual equipment for presentation of its many programs.

In addition to the mounted specimens housed in the center itself, the remainder of the camp is home to many more mounted specimens which can be included in any program.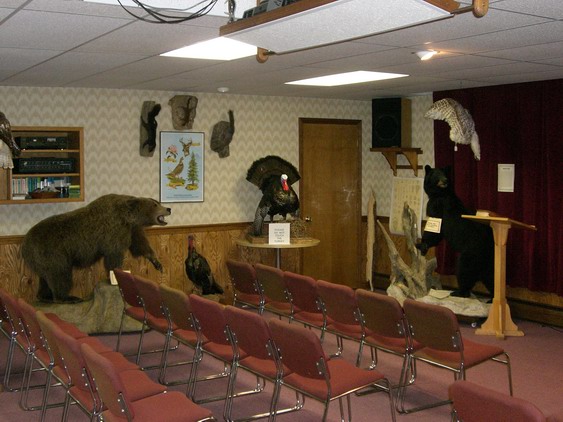 "From the time the world was created, people have seen the earth and sky and all that God made. They can clearly see his invisible qualities - his eternal power and divine nature. So they have no excuse whatsoever for not knowing God." Romans 1:20 (NLT)

Nearly two-thousand years ago, the most natural thing in the world would have been to find Jesus somewhere in the great expanse of the out-of-doors. At His side would have been a most unlikely group of men who should never have gotten along together. These twelve whom we know as His disciples were in the Creator's classroom learning what was to become the "kingdom that was to come" in the hearts of men.

Twin Pines has long had a reputation for its emphasis on nature and creation. As young people and adults study nature, creation, and the environmental issues, they feel a need and motivation to know the Creator. All of the programs and resources of our center are focused on promoting an awareness of God's intervention in every aspect of life.

What makes the Sweigert Nature Center at Twin Pines so unique is that it is full of "hands-on" experiences and activities that will reinforce the Christian faith in an atmosphere that can not be duplicated at home, school, or in the community. The Sweigert Nature Center is truly an "awareness center." The truth about the Creator is not just taught - it is experienced!!!

The Sweigert Nature Resource Center is available to school or other groups as our schedule permits.

TWO DAY PROGRAM:
A two-day program would begin Tuesday afternoon and conclude after lunch on Thursday (6 meals / 2 overnights) at a cost of $95.00 per person. This includes 6 hours of nature instruction and activities.

ONE-DAY PROGRAM:
A one-day program may be scheduled on Tuesday or Wednesday and would run from the afternoon of the first day through lunch of the second day (3 meals / 1 overnight) at a cost of $50.00 per person. This includes 3 hours of nature instruction and activities.

DAY-TRIP PROGRAM (with lunch):
A day-trip program may be scheduled on Tuesday, Wednesday, or Thursday and is intended to be one full day including a hot lunch at a cost of $75.00 for the group for a room/program fee plus $4.50 per person for a hot lunch provided by the camp Kitchen. This includes 2 hours of nature instruction and activities.

DAY-TRIP PROGRAMS (without lunch):
Day-trip programs can be arranged from a variety of programs that are available. These programs will be presented by our naturalist. These programs can be scheduled on days other than Tuesday thru Thursday as time and space are available; call for available dates. The cost of these programs is as follows:
1-Hour Program.....$1/person.....$45 minimum
2-Hour Program.....$2/person.....$65 minimum
3-Hour Program.....$3/person.....$85 minimum

BONUS ACTIVITY:
Twin Pines can provide an hour of initiative activities in addition to the nature programs which will be provided at no extra cost. Initiative activities are intended to present team-building concepts and are intended to increase individual self-esteem as groups work together to accomplish stated goals. (initiative activities are not recommended for pre-school children.)

ARVEL H. SWEIGERT (1918-1988)
It has been said of greatness that it is not wealth, nor success, by whatever standard of measure, that determines the greatness of a man. A truly great man is one who leaves a legacy of people whose lives he has touched and somehow changed because of his contact.

Arvel H. Sweigert (better known as "Boob"), was born May 20, 1918 in Cressona, Pennsylvania. A United States Navy veteran of World War II, he was employed by the Reading Railroad as an engineer for 35 years until his retirement in 1978.

For more than 25 years he served in various leadership positions with the Boy Scouts of America. Twin Pines was privileged to share in his life for more than 20 years. A self-taught naturalist, his life impacted thousands of lives. He encouraged us all to "take a closer look" at God's fantastic creation.

A Walk with Boob by Arvel Sweigert

When you walk thru the woods, I want you to see:
The floating gold of a bumble bee;
Rivers of sunlight, pools of shade;
Toadstools sleeping in mossy jade;
Treetop cones against the blue,
Dancing flowers, bright green flies,
And birds to put rainbows in your eyes.

When you walk thru the woods, I want you to hear:
A million sounds in your little ear;
The scratch and rattle of wind tossed trees;
And the rush as a timid chipmunk flees;
The cry of a hawk from the distant sky;
The purr of the leaves as the breeze rolls by;
Brooks that mumble, stones that ring,
And birds to teach your heart to sing!

When you walk thru the woods, I want you to feel:
That no mere man could make this real;
Could paint the throb of a butterfly's wing;
Could teach the Wood Thrush how to sing;
Could give the wonders of earth and sky.
There's something bigger than you and I.
When you walk thru the woods, and the birches nod,
There, meet a friend of mine, named God!

The Arvel H. Sweigert Memorial Nature Resource Center is a fitting tribute to a true servant of God!!!