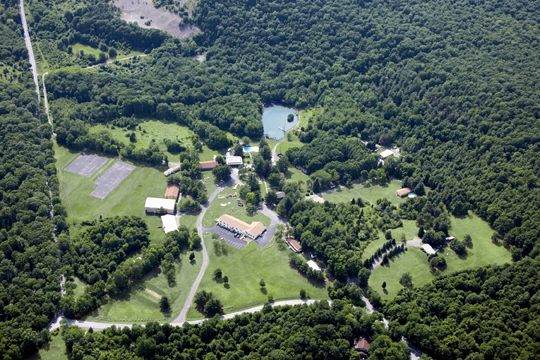 Nestled in the beautiful Pocono Mountains, you will find a quiet place for spiritual reflection and inspiration, Twin Pines Camp, Conference and Retreat Center. This ministry is aligned with the National Conference of the Evangelical Congregational Church, serving the 125 churches of the Delaware and Susquehanna Regions.

While Twin Pines is closely aligned with the National Conference of the E.C. Church, its ministry is by no means, limited to the member churches. Many of our summer campers and our retreat groups are not members of the E.C. denomination. More than 60 different church groups make use of this facility each year. Our busy schedule ministers to more than 4,000 people each year, totaling more than 10,000 guest days

In Mark 6:31, Jesus said (to His disciples), "Let's get away from the crowds for a while and rest." Twin Pines' 205 acres provides an "away" place where the wonders of God's creation can be clearly seen. Both young and old alike can find rest and renewal in this quiet place. You will definitely "hear HIM here."

People of all ages, from diverse backgrounds, find renewed strength at Twin Pines through our year-round schedule. We offer over 20 different summer camp programs and provide facilities for weekend and mid-week retreats and conferences throughout the entire year.

While attending any of our programs you will enjoy clean, comfortable accommodations with single and double beds for adults and bunk beds for youth. You'll also enjoy delicious meals and snacks.

Twin Pines includes a wide variety of both indoor and outdoor recreational sites and facilities. State-of-the-art audio visual equipment is available for presentation purposes.

We can provide "Initiative Activities" for groups of all ages. These activities are exercises in "team building" skills that require the encouragement and trust of the group dynamic. Christian character is developed and enhanced as group cooperation is emphasized. Our qualified staff will design "Initiative Activities" customized to your specific group's needs.

Twin Pines is committed to providing quality, Christ-centered, creative educational experiences in a natural environment with the resources of our natural surroundings significantly contributing to the mental, physical, social and spiritual growth of our campers.

Twin Pines is an active member of the Christian Camp and Conference Association. Our facility is also licensed and inspected by the Pennsylvania Departments of Health and Agriculture.


Come share God's Love in the Natural Beauty of His Creation at Twin Pines ~ Christ-Centered Camping At Its Best!