2023 Women's Weekend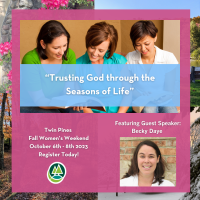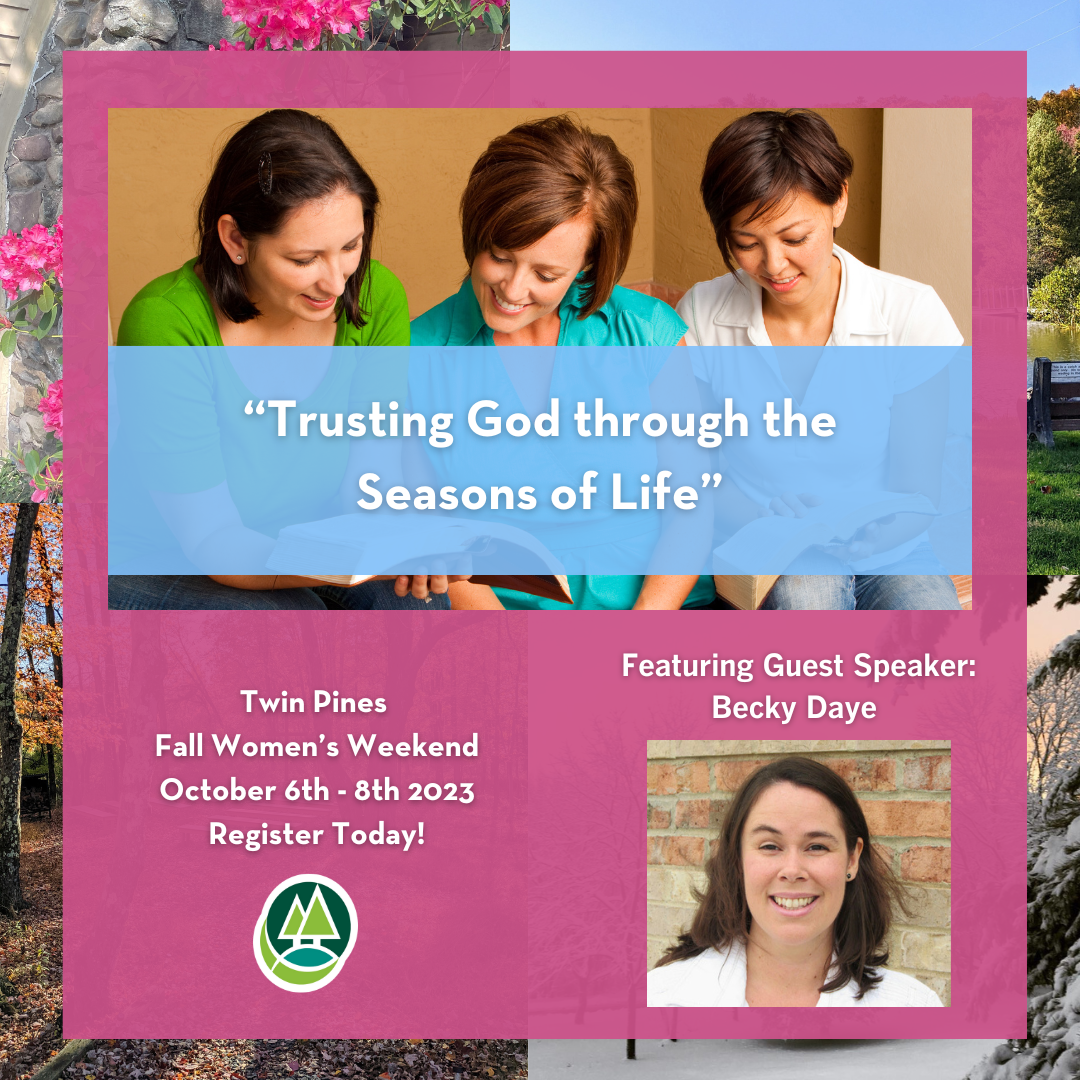 Add event to calendar
A weekend for women to get together and focus on strengthening their relationship and discipleship of Jesus. You'll not only have the chance to hear inspiring teaching from Becky Daye but also enjoy:
• the great fall weather ~ go for a hike on one of the many trails
• relax ~ in the snack shop, in your room, on a bench, etc.
• build your faith ~ discuss spiritual issues with other women

All while you put the busyness of life in proper focus.
Weekend Schedule:
FRIDAY
7:30 PM Arrival
9:00 PM Get to know each other

SATURDAY
8:15 AM Breakfast
9:30 AM Session
10:15 AM Break
11:00 AM Session
12:15 PM Lunch
1:00 PM Prayer/Nature walk /indoor activity
2:15 PM Free time
4:15 PM Session
5:30 PM Supper
6:45 PM Evening Activities
7:30 PM Campfire sing and devotions

SUNDAY
8:15 AM Breakfast
9:30 AM Session
10:30 AM Break
11:00 AM Sharing and reflection time
12:15 PM Lunch
1:00 PM Departure
Prices:
From $205.00 to $245.00 depending on your housing selection.  
This year's speaker: Becky Daye

Born into a pastor's family in the heart of Pennsylvania, Becky Daye grew up knowing and loving Jesus. On a mission trip to Australia during the summer of her 17th year, she realized that she wanted to serve God with her life.

This led her to Moody Bible Institute where she received a degree in International Ministries and also met her future husband. For the past few decades, Becky has been a pastor's wife, serving beside her husband in youth ministry, family ministry and for the past twelve years as a senior pastor's wife.

She began homeschooling her four children several years ago and the two oldest have now graduated. She enjoys writing and reading, drinking coffee and having long conversations, the Word of God and traveling. She lives in Rochester, NY with her favorite people and a sweet dog.

 

Download a brochure and register by mail, here.


Register online here.
Event Properties
| | |
| --- | --- |
| Event Date | 10-06-2023 7:00 pm |
| Event End Date | 10-08-2023 1:00 pm |
| Capacity | Unlimited |
| Individual Price | Varies on housing choice. |